GIRLS IN STEAM ACADEMY 2021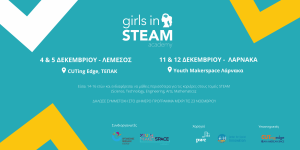 Girls in STEAM Academy: Training program for girls of 14-16 years old
Girls in STEAM Academy is a new initiative that aims at bridging the gap of low female representation in the sectors of STEM (Science, Technology, Engineering, Maths) and it announces its new training programs that aim to empower young girls and to encourage them to pursue a STEM career.
Starting with the program BridgeSTEAM, Girls in STEAM Academy will offer two weekend trainings, one at CUTing Edge of the Technological University of Cyprus in Limassol (4&5 December) and one at the Youth Makespace Larnaka (11&12 December).
The two-day program BridgeSTEAM aims to empower the participants on three levels: a) through educational trainings on robotics and artificial intelligence, b) through offering information on career opportunities in STEAM fields, and c) bringing them in contact with female role models from STEAM sectors in Cyprus. During the training program, an educational training on the UN Sustainable Development Goals will be offered.
Girls in STEAM Academy is an initiative of Be an Ally Foundation, and is co-organised by Youth Makerspace Larnaka (Youth Board of Cyprus). Girls in STEAM Academy is sponsored by PwC and the Centre for Social Innovation, and is supported by CUTing Edge (Technological University of Cyprus). The initiative is led by Panayiota Polykarpou and Anastasia Liopetriti.
Applications for participation are open until 23 November through the following link https://forms.gle/RgnXL9LtCzeY6S5TA or on the project's website https://steamacademycy.org/bridgesteam/
WHY STEAM?
Though girls tend to be more advanced than boys when it comes to digital literacy, only 17% of ICT graduates and professionals are women in the EU, and only 36% of the total number of STEM graduates in the EU. This might be attributed to gender stereotypes that keep girls from developing their full potentials. Girls in STEAM Academy aims to break these boundaries and stereotypes that hold girls back from developing an interest in pursuing a career in the fields of Science, Technology, Engineering, Arts and Mathematics.
"Sciences provide an understanding of a universal experience. Arts are a universal understanding of a personal experience… they are both a part of us and a manifestation of the same thing… the arts and sciences are avatars of human creativity".
Mae Jemison, an American engineer, physician and former NASA astronaut is the first Afro-American woman to travel to space.
Website: https://steamacademycy.org/
Facebook: www.facebook.com/steamacademycy
Instagram: @steamacademycy
Contact: [email protected]
https://makerspace.onek.org.cy/wp-content/uploads/POST-1.png
788
940
youth_makerspace
https://makerspace.onek.org.cy/wp-content/uploads/logoONEKmakerspace.png
youth_makerspace
2021-12-09 16:14:46
2021-12-09 16:24:23
GIRLS IN STEAM ACADEMY 2021