MAKERsHOUSE 2021 – «There is nothing wrong with loving something you can't hold in your hand»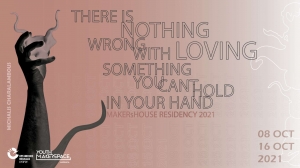 The MAKERsHOUSE Residency Programme of Youth Makerspace Larnaka is back for a 3rd consecutive year, aiming to empower the artistic community, to support artistic production and promote research and innovation through offering its premises, equipment and services.
Our first resident artist in 2021 Michalis Charalambous, in cooperation with his mentor Kyriakos Kosta, discovers how technology and artificial intelligence have been embedded in our daily life in various ways, either in the form of smart technology or through videogames and coding.
The exhibition "There is nothing wrong with loving something you can't hold in your hand" was inspired by N. Kathrine Hayles' book "How we became Post Humans/Virtual Bodies in Cybernetics" (1999). The exhibition illustrates how the perceptions of the notion of human have been fundamentally transformed in the last quarter of the 20th century, and presents the significant material and virtual concepts in the modern technological and scientific contexts.
The fear of postmortem existence reappears through the angle of technology and digital practices. Michalis Charalambous reexamines the boundaries between physical and digital environments, and the problematic practices which derive from human history. On this narrative, he creates a visual installation of printed digital photographs, ceramics and 3D prints.
Exhibition Opening: 8/10, 18:00-20:30
Exhibition Duration: 8-16/10
Opening Hours: Weekdays 8:00-17:00, Saturdays 9:00-14:00
Directions for the Public:
Google maps directions (https://goo.gl/maps/Vsy22Qqu2iKUtRjE9) will lead you to the back entrance of Youth Makerspace Larnaka. The main entrance is at 1 Griva Digeni Avenue, next to the bust stop. Follow the private road on your right (if you are coming from Nicosia, or on your left if you are coming from Larnaka Municipal Theatre).
You are required to present a SAFEPASS in one of the following forms:
– Vaccination certificate of at least one dose received three weeks before
– Certificate of COVID-19 illness in the last 6 months
– Negative PCR or rapid test (72 hours)
The use of mask is mandatory in the exhibition area. All health and safety measures apply.
For more information Tel 24 201777
Email: [email protected]
Website: https://makerspace.onek.org.cy
Facebook & Instagram: @makerspacelarnaka
https://makerspace.onek.org.cy/wp-content/uploads/MICHALIS-POSTER_instagram-post.jpg
2000
2000
youth_makerspace
https://makerspace.onek.org.cy/wp-content/uploads/logoONEKmakerspace.png
youth_makerspace
2021-12-09 16:03:16
2021-12-09 16:03:27
MAKERsHOUSE 2021 – «There is nothing wrong with loving something you can't hold in your hand»