Webinars for Makers 2021 – November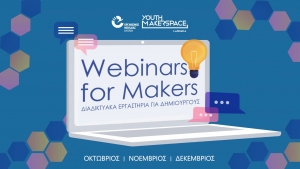 Webinars for Makers 2021
Youth Makerspace Larnaka is running the Webinars for Makers for a second consecutive year, offering special training on using the technological equipment which is available at its premises. The workshops are run by our inhouse trainers and are geared for beginners and advanced users.
The aim of the webinars is to train participants and raise awareness on the ways that new technologies may contribute to the creation of innovative ideas. As every year, participants have a unique opportunity to network with other participants and trainers, enriching the community of Youth Makerspace Larnaka.
Webinars Schedule – November 2021
06/11/21 – 10:00 – 11:30  – Rhino 3D – 3D Printer
13/11/21 – 10:00-11:30 – Learning Photoshop – Part 1
20/11/21 – 10:00-11:30 – Introduction in Illustrator
27/11/21 – 10:00-11:30 – Rhino 3D – Laser Cutter
Registration Form: https://forms.gle/KGjqVzaGDWoZZVfL6
In order to attend the webinars, you should fill in the above registration form. Then you will receive your zoom code via email.
Important information:
You are allowed to attend all the webinars.
The webinars will be held in Greek.
No relevant knowledge is required for the webinars for beginners.
Participation is free of charge.
There are limited spaces available.
A participation certificate will be given upon request.
For more information Tel 24 201777
Email: [email protected]
Website: https://makerspace.onek.org.cy
Facebook & Instagram: @makerspacelarnaka
https://makerspace.onek.org.cy/wp-content/uploads/Instagram-Post-webinars-2021-04-1.jpg
2000
2000
youth_makerspace
https://makerspace.onek.org.cy/wp-content/uploads/logoONEKmakerspace.png
youth_makerspace
2021-12-09 16:07:23
2021-12-09 16:10:58
Webinars for Makers 2021 – November